SkywayTools.com has been carryiing V8 Tools since before the launching of our online tool store in 1995, because we carried the V8 Tools line in our regular brick-and-mortar store for many years before the internet. We are impressed with the V8 Tools line because we have had nothing but great feedback about them for the past 20 years. We sell the V8 Tools line of wrenches, sockets and other hand tools to the ag industry, professional mechanics, contractors and other types of industries in our area and they are very popular with our customers.
V8 Tools are very strong and come with a lifetime guarantee. SkywayTools.com owner Doug Gillis just hates to have tools returned to the store for defects and thats why he has come to rely on the V8 Tools brand - they never get returned and our tool using customers can count on the tools.
V8 Tools are produced overseas, but the V8 Tool Company is in South San Francisco, California and they oversee every detail of the tool production process very carefully.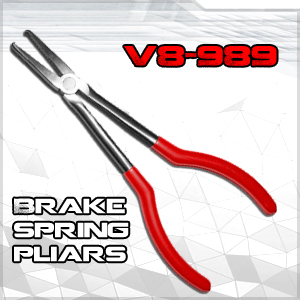 Here is an article written for the V8 Tools website:
Our priorities are to produce tools that are:
Well-designed to save time and money for hard working people,
Strong and durable for years of daily use,
Affordable for hard working people with tight budgets
Protected by a durable and attractive finish.
In the real world, we often have to settle for the best compromises we can get. Here are a few of our successes and things to be improved:
We design our tools based on input from users with the goal of saving time and money. For a small company, we have won our fair share of patents and awards. When we discovered that we should have made the blades of our crowfoots thinner for ease of use, we invested in new sets of expensive tooling and came out with our second generation crowfoots. In the process, we also found ways to make them much stronger. Just one year ago, we changed the designs of three of our four angle wrench sets because our new 30º/60º angle design is more useful at tackling the changing needs of our customers. We had to make completely new tooling for this change, but we see the needs of our customers as our highest priority.
Making tools tougher: Tools should be made for the rigors of everyday use. We pay great attention to the steel we use and how it is forged. We have done well in this regard. Proof: When we first came out with our second generation ½ Dr. crowfoot set, the V8-7814, we performed a series of destruction tests. We ended up testing only 7 of the 14 sizes. The reason we stopped was that we broke 7 expensive name-brand extension bars in the very first 7 tests. We ran out of expensive extension bars to break. Our customer service guys do not remember seeing any broken (second generation) crowfoots sent back to us last year.
Further proof: We offer a lifetime warranty for over 99% of our products. In the last 15 years, our warranty return rate has been less than 1/1000th. The only items not guaranteed are the blades for our big cutter and the impact reducer/extensions with 1/2" drive female to 3/8" male drive. A steel 3/8" drive tip is just not strong enough to stand up to the 1100 ft lbs torque of the 1/2" air impact guns on the market. To warranty these particular reducers would be unrealistic.
Affordable: The world has changed; mechanics do not earn as much as they did in the good old days. Yet, they seem to need new tools more than ever. We have made it a goal to keep our tools affordable. So far, dealers have told us that they can make money with our tools, and the users have said that our prices are very reasonable.
Good looks: About seventeen years ago, we had a chance to install a nice, fully automated sanding, and polishing line in our new factory. The automated line makes perfect mirror polished combination wrenches consistently. In the end, we opted for a less automated production line designed by our own engineers. The fully automated line was not flexible enough for our purposes. It could process only combination wrenches, not the angle wrenches, service wrenches, crowfoots and other things we plan to produce for our customers. Our flexible line is not perfect. It is harder to maintain consistency in polishing. However, we chose the flexibility to handle the great variety of tools important for our market. Most of our tools are decent looking, but not yet Jewelry like. Improving the look of our tools has been and will be an ongoing process for us. In conclusion, we have produced many well-designed, tough, and affordable products for working people. We believe that we have made V8 Tools the smart choice for mechanics today.

After selling V8 Tools for the past 20 years, SkywayTools.com can guarantee your satisfaction with this sturdy line of hand tools!