Posted by Sherry Gillis on Jan 27th 2016
Hood Ornament Collection Display in Tool Store

SkywayTools.com owner Doug Gillis has been collecting hood ornaments since he was in his twenties and now has an impressive collection of almost 100 hood ornaments. In fact, one of the jokes in the Gillis family all through the years was Doug telling our daughter, "I'll give you five bucks if you'll go steal the hood ornament off of that car over there." In spite of the fact that he was never able to turn our daughter into a hood ornament thief, Doug steadily grew his collection.
He found them at yard sales, at Hot August Nights in Reno, NV out there at that big flea market, other flea markets and at the local pick and pull. He always loved the hood ornaments from the 30s, 40s and 50s American made Chevys, Plymouths, Dodge, and GMCs. He kept them in a series of regular cardboard boxes out in the garage at the house and they collected dust for over 40 years. We talked about pulling them out and cleaning them up for display, but just never got around to it.
A few weeks ago Doug had to clean out the garage at the house and he decided to haul his entire collection down to the Skyway Tool Center store. He put them on his work bench and got to work polishing them up. He was surprised at how quickly he was able to bring each hood ornament to life and many of them now look brand new!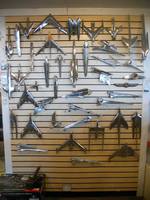 Doug has displayed about half of his hood ornament collection and
will add more as he polishes them and perfects them to show
Asked which one is his favorite, Doug says he loves them all and can't choose, but wife Sherry loves the hood ornament from a 1941 Chevy. These collected items are not for sale, but are being kept in a display case in the store. If you are in the area, please come by and check them out.