Posted by Sherry Gillis on Jan 28th 2016
Ernst Socket Rails

Do you have trouble keeping your tools organized, whether it is in your home shop, your work shop, or on your service truck? SkywayTools.com has a solution for some of the trickiest organizational situations you may be encountering when it comes to keeping your stuff together. Mechanics hate to reach for a wrench or socket only to find they are in a twenty minute search for the one size they need and can't find, because their bench or work area is a scattered mess. We began carrying Ernst Manufacturing Inc's line of socket rails, wrench holders and other products to help you keep your tools right there when your hand reaches for them. Ernst products are manufactured right here in the United States, so you can feel good about buying them and using them in your shop because you know you've bought from an American company with American workers.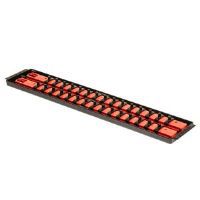 Duro-Pro Twist Lock (tm) Socket Clips - Lets Do the Twist!
To begin with, Ernst makes a socket rail system that is fantastic! It has the "Duro-Pro Twist Lock" system on the socket organizer tYou sihat locks your sockets to the rail. You simply place the socket onto the socket clip, press the socket down, then twist it on the clip and it is locked in place. When you need a socket you can just twist in the opposite direction and you are ready to get to work. If your socket rail is pushed onto its side or upside down, you know your sockets aren't going anywhere. You can nail these rails to your wall or screw them in to your truck or rollaway. The folks at Ernst worked on this for years and have the perfect mojo now so that you can easily and quickly click your sockets into place and get them when you need them. They come with a lifetime guarantee so you know you can count on them year in and year out.
Twist Lock Socket Organizers with Magnetic Stabilizer
Ernst also makes a line of socket organizers that have the Duro-Pro Twist Lock (tm) Socket Clips that are magnetic, as well, so you don't have to screw or nail them down and can pretty much stick them up wherever you have a metal surface. The capability makes it easy for the mechanic to take their rail of sockets to the car or under the car and stick it magnetically to a nearby surface while working. How cool is that? These rails are both tip and slip resistant and will stay upright in your tool box. You can magnetically attach these into your tool box drawers and when you are opening and closing your drawers, your sockets will stay in place. These also come with a lifetime guarantee.
The Socket Boss (tm)
Ernst also makes a tray for your rails called The Socket Box (tm). The Socket Boss will hold your rails and have a push button release so that you can easily remove and replace your rails as necessary. You can turn your socket tray upside down and your sockets will not fall out, the rails are also locked in and will stay in place, so you are good to go! The sockets load in to your rails with the drive end down, making it easy for you to see your sockets and recognize the size you need instantly.
A Fabulous, USA Manufactured System to Organize Your Tools
Thanks for reading about the Ernst Manufacturing Inc's line of socket rails, magnetic socket rails and trays. You can check out the pricing on them here and SkywayTools.com is ready to ship them out to you at your convenience. Reasonably priced, these socket rails and trays can really help you keep yourself organized both at work and home - and will last you for years to come.