Posted by Sherry Gillis on Jan 27th 2016
Step Drill Set ATD 9200

If you are drilling in thin mild steel, aluminum, copper, brass, plexiglass, wood and laminates the ATD 9200 five piece step drill set is worth considering. The tri-flat shank design gives the user a good grip in the chuck without slipping and the two flutes are great for drilling true round holes, automatically deburring as you go.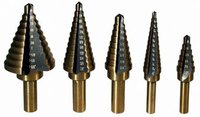 The set includes two quarter inch shank step drills: one drills holes from 3/16in to 1/2in in 1/16 increments and one drills 1/8in to 1/2in holes in 1/32in increments. Also included in this set are thrree 3/8 inch shank step drills: One 3/8in shank that drills 1/4in to 3/4in holes in 1/16in steps, one 3/8in shank step drill that drills 3/16in to 7/8in holes in 1/16in steps and one 3/8in shank drill bit that drills 1/4in to 1-3/8in holes in 1/8in steps.
Advanced Tool Design, ATD, is a tool company that imports tools and supplies distributors and retailers around the United States. Although the tools are not US made, they are of a high quality. We have been selling ATD tools from the early days of Skyway Tools. Skyway Tools was founded in 1986 and Advanced Tool Design was founded in 1977, so we have been selling their products for over 25 years and have found them to be very reliable.
We have sold quite a number of these step drill bit sets online and in our walk-in store in Chico, CA and have gotten great feedback about them.